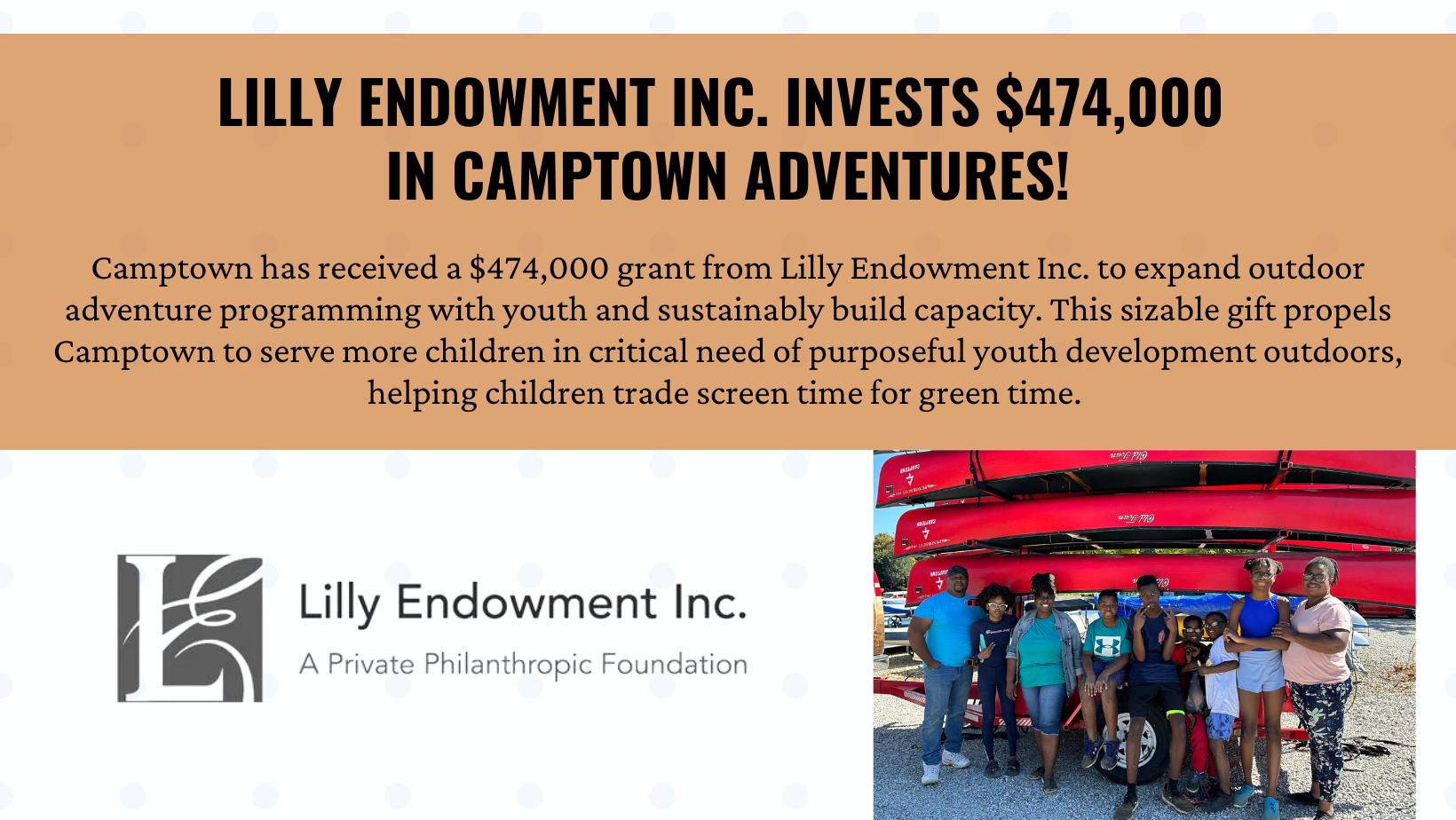 Camptown has received a $474,000 grant from Lilly Endowment Inc. to expand outdoor adventure programming with youth and sustainably build capacity. This sizable gift propels Camptown to serve more children in critical need of purposeful youth development outdoors, helping children trade screen time for green time. Support from Lilly Endowment Inc. is crucial for the organization to achieve its strategic goal of serving 100,000 kids by 2032. However, Camptown will need additional funding from the community to achieve this objective.
The program is being funded through Lilly Endowment's initiative, Strengthening Youth Programs in Indiana. The aim of the competitive initiative is to help youth-serving organizations working throughout Indiana improve their abilities to promote the academic, physical and social well-being of young people, ages five through 18. 
Using these funds from Lilly Endowment Inc., Camptown plans to expand its existing Youth Leader program, add family engagement adventures, and refresh worn program equipment used by students free of charge on overnight camping programs. Camptown will use a portion of funding to hire additional staff, and allow staff to pursue advanced credentialing in specialized outdoor adventure areas. 
"Were thrilled to have Lilly Endowment's generous support as we help youth flourish in Central Indiana and beyond. Camptown's 32 year history has been fueled by our community, for our community and this investment helps us continue gearing up for growth. It is an exciting time for Camptown and the kids we serve, as we have doubled in size to meet demand and help kids thrive in nature." 
Camptown, currently located in Indianapolis' Park 100 area, has also recently expanded its Wilderness Adventure Academy with schools, after-school programming, summer camps and is piloting a Wilderness Therapy initiative. Camptown is one of 187 organizations receiving grants through Strengthening Youth Programs in Indiana. 
"Indiana's youth-serving organizations are crucial to the healthy development of children and youth across the state,' said Ted Maple, Lilly Endowment's vice president for education. "The challenges these organizations have faced in meeting the needs of young people in recent years have made their work increasingly difficult. Lilly Endowment is pleased to support their efforts to strengthen programs and serve more youth more effectively."
Lilly Endowment Inc. launched Strengthening Youth Programs in Indiana Initiative in 2022 with an invitational round of grants to nine national youth-serving organizations to help them expand and enhance the work of their Indiana affiliates or chapters.